Mrs. Suzanne Wampler, Principal
Email: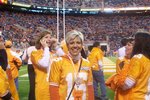 Dear Parents/Guardians and Students,
It is my pleasure to welcome you to Fairview-Marguerite Elementary School. The faculty and staff join me in saying we're happy to have you as part of our family. We hope this will be a successful and satisfying year for you.
We are extremely fortunate to have such a dedicated and talented faculty. Your children's education is enhanced by their presence. We are here to support you in your role as primary educators of your children.
We welcome your participation and support during the school year and solicit membership in the Parent Teacher Organization (PTO). We encourage you to join your child for lunch, volunteer in the classrooms, or assist on field trips. Working together, we will be able to reach our collective and individual goals. We look forward to celebrating with you the achievements of our students.
Sincerely,
Suzanne Wampler, Principal